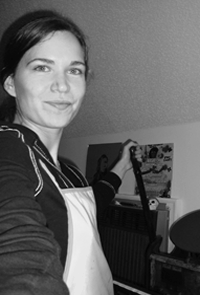 Bridget Elmer is an artist, bookmaker and letterpress printer working in St. Petersburg, FL, where she is restoring printing presses, tuning up her 1966 flatbed truck, and retrofitting open source philosophy to book technologies. Through Flatbed Splendor, she produces artists' books, prints, broadsides and ephemera. Flatbed Splendor is a member of 7 Ton Letterpress, a collective devoted to letterpress printing, graphic design, calligraphy, paper goods, invitations and shenanigans. Bridget is the co-founder of Impractical Labor in Service of the Speculative Arts (ILSSA), an organization for those who make experimental or conceptual work with obsolete technology, and the co-owner of The Southern Letterpress, providing letterpress artwork, printing and products to the Southeastern United States. Bridget has studied book binding, letterpress printing, and printmaking at the Cooper Union, Center for Book Arts, Penland School of Crafts, Asheville BookWorks, and the California Rare Book School. She received her MFA in the Book Arts and her Masters in Library and Information Studies from the University of Alabama. Bridget has taught book arts in a variety of educational settings, including Booklyn, Asheville BookWorks, Ox-Bow, Small Craft Advisory Press (SCAP) at Florida State University, and The Press at Colorado College. She currently serves the Development and Marketing Consultant at the Black Mountain College Museum + Arts Center (BMCM+AC). She is the Chapter Chair of the Southeast Chapter of the Guild of Book Workers and a Board Member at the Friends of Community Radio.
ARTIST STATEMENT
My love for books began in my mother's library, when I first grabbed a volume from the shelves and breathed in the comforting aroma of old ink. Before I could even decipher the strange yet familiar symbols on the page, I was at once lost in a foreign land and completely at home.
Bookmaking, for me, is a public act of communication. My work explores reading as a generative, creative act, and engages the book's potential as a persistent information technology. In addition to artists' books, I make ephemera for public events that is produced collectively, distributed freely, and whose fate is completely out of my hands. As such, much of my work is social in its conception, production and reception.
I am a lover of obsolete technology. I print using antiquated presses. I bind my books by hand. I make paper from old cloth and natural fibers. I am also a lover of new technology. I design not only in the bed of the press with lead type and rubber ink, but on my laptop with pixels and Pantone. I am not interested solely in preservation or innovation, but in the relationship between the two. I am not a Luddite, nor am I a technophile. Instead, I aim to choose technologies that best serve the idea.
My ultimate goal is to ensure that the book, regardless of its fate, can always be found in many good hands.